Digital totems for tourists
Digital totems for tourists are monitors that are built into a stand and can be used both outdoors and indoors. The natural habitat for digital totems are high-traffic areas like shopping centres, airports, train stations and hotels.
In the world of advertising content management and innovation, digital totems are an essential part of a brand or business positioning strategy.
Digital totems for tourists are a kind of combined informative and interpretative double-sided signage that is particularly suitable for outdoor spaces and places that receive visitors. They are both attractive and robust. The touchscreen option is easy to use and offers instant information about a city's different tourist resources.
They can also be programmed to display the events being held in the city, putting all the information about the city's festivals and cultural events at visitors' fingertips. These devices are mainly used as city information points and corporate signage in historical city centres and historical buildings and monuments.
WHY THEY MAKE LIFE EASIER FOR TOURISTS
Attractive
Large, bright and with a modern feel, they make it easy for everyone to see the content they display.
Interactive
Thanks to the full range of options, the interactive advertising totem sparks customer interest and engagement.
Versatile
Programming can be managed internally or remotely via our multimedia content manager.
Simple
Easy to install and program automatically.
In short, digital totems for tourists serve as a tool to make it easier for visitors and tourists to identify and locate the city's resources.
The advertising totem is an interactive system that offers multiple options for enriching your brand presence:
– Touchscreen technology for navigation and interaction with the content
– Display for sharing image and/or video content
– Remote management, including the possibility of synchronising with other equipment
– Real-time sharing of content on social media
DIFFERENT TYPES OF TOTEMS
Interactive totems for tourists are generally located outdoors. These totems are created to withstand the elements and are built to handle the sun, rain, humidity, heat and wind. They also come with vandal-proof glass, electrical protection, hi-res or 4K image, multi-touch technology and Wi-Fi.
18″ iSearch outdoor display, 5-32
Wall or stand. Contact citizens while they charge their phones. Touchscreen, phone charging port, vandal-proof support and easy to install.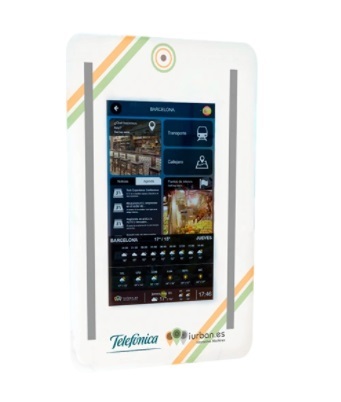 18" iSearch window display,
5-55
Turn all your centre and building windows into touchscreen displays. Vandal-proof design, stainless steel. Tempered safety glass, 2 charging points. Suitable for indoor and outdoor use.
iSearch Totem 43-55 
Interact with your customers with large screens. With 46" to 55" touchscreen. Suitable for indoor and outdoor use. 2 charging points. Camera for selfies, customisation possible.
Get your free eBook on interactive digital totems
Want to know all about interactive totems? Download our ebook and find out more about how they work, their features, software, advantages, installation and all the info you need to become an expert in interactive devices.